Work Experience
Work experience is the short term placement of secondary school students, with employers to provide insights into the industry and the workplace in which they are keenly interested. It provides students with the valuable opportunity to:
Develop employ-ability skills
Explore possible career options
Understand employer expectations
Increase their self-understanding, maturity, independence and self-confidence
Students are placed with employers primarily to observe and learn – not to undertake activities which require extensive training or expertise.
Calrossy encourages students to find and secure their own work experience placements. This allows the students to:
Develop their ability to communicate with employers and businesses
Allow students to take the initiative which creates a positive and lasting impression on employers and businesses
Work Experience and Why it Matters helps to highlight how work experience can help open your mind to the great possibilities of your career. Thanks to Myfuture and to the author Juliet Honey.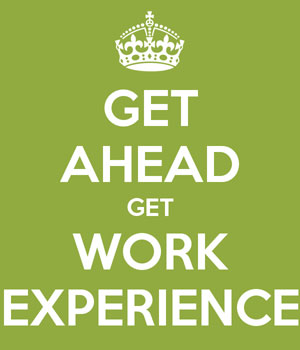 Before doing anything, students and parents are asked to download, read and understand the Calrossy Work Experience Program Guidelines and the Student Work Experience Checklist 2020

To help prepare for work experience, our students will work through the My Work Experience program. As a student enrolled in a NSW High School and participating in work experience, students will complete the My Work Experience to help them prepare for their work experience. My Work Experience if a fun way to prepare for the placement. ACCESS THE MY WORK EXPERIENCE PROGRAM
All forms must be fully completed with Attachments A, B and C returned to Calrossy and given to the Career Adviser BEFORE the commencement of work experience please. If forms are not completed and the relevant forms returned to Calrossy, the school cannot cover students if in the event of a workplace incident or accident.
For hints on what to say when seeking work experience, please see here … Organising Work Experience
The Forms to complete …
If interested in seeking work experience, please download the fillable forms below… (Forms 1 – 5 BEFORE Work Experience commences) (Number 6 during and after Work Experience)
Host Employer Consent Form (Returned to Calrossy) ATTACHMENT A Host Empl Consent Form
2. Host Employer Acknowledgement Form (Returned to Calrossy) ATTACHMENT B Host Empl Acknowledgement Form
3. Parent Consent Form (Returned to Calrossy) ATTACHMENT C Parent Consent Form
4. Host Employer Acknowledgment Form (Parent's Copy to retain) ATTACHMENT D Parent Copy Host Empl Acknowledgement Form

5. Certificate of Currency (Required by Employer) Certificate of Currency
6. During work experience, to help increase the quality of the learning experience and to develop and expand on our student's capacity to design a thorough resume, the Work Experience Diary must be completed and returned to Mr Impey for a 'Post Work Experience Chat'
Work Experience Diary
Guidelines for students undertaking work experience with animals, courtesy of the Victorian Department of Education & Training…
working with animals

The Australian Government Job Jumpstart Website has some great resources to help our students with work experience, including staying safe, getting value and the power of getting experience by volunteering. Visit job jumpstart website
For more hints and tips to help with finding work experience:
Myfuture tips for finding work experience Finding Work Experience – Youth Central Victoria
Before going on work experience, you may like to Know Your Rights The Australian Government Fair Work Ombudsman has some great information to help.
In addition to canvassing local employers & businesses or others near home, there are a number of other formalised and external Work Experience Programs and opportunities, they include:
Academy of Interacitve Entertainment Work Experience
To Find more, Google 'Work Experience Programs' to find more listed programs